GriefShare
Aug 29, 2021

|
Have You Lost a Loved One?
GriefShare is a 13-week care group at Valley designed to help people who are mourning the death of a family member or friend. Often, others want to help you cope with your loss but simply don't know how. GriefShare is a group of people dealing with loss that meets weekly to share experiences and tackle tough challenges together.
GriefShare meets Mondays at 6:30 p.m. at Valley Avon in Room 206. The cost is $15.
If you have questions, need more information, or get stuck, email Mary Swank or call 860.673.6826 x108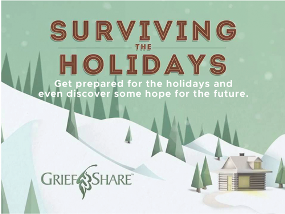 Special Event - GriefShare: Surviving The Holidays - Sunday, November 14, 3-5:15 p.m. Cost: $8 Refreshments will be served.

Wondering how you will survive the weeks surrounding Thanksgiving and Christmas? Are you dreading these holidays, knowing that everything has changed and that happy memories from past years can't be recreated?
Our Surviving the Holidays seminar is especially for people who are grieving a loved one's death. You'll learn:
How to deal with the many emotions you'll face during the holidays
What to do about traditions and other coming changes
Helpful tips for surviving social events
How to discover hope for your future
You'll be welcomed by warm, caring people who understand what you are going through and who want to help.