Giving at Valley is Easy and Secure
Our PushPay platform makes giving a snap -- from your laptop, tablet, or phone.
Never mind the steps -- I'm ready
How to begin giving with PushPay
Step 1: Click the button below to go to our PushPay page, OR just text the phrase give avon to 77977.
Step 2: Enter the "Gift type" -- one-time or recurring. Setting up recurring giving helps ensure consistency in this act of worship.
Step 3: Select the "Fund" desired. "General Fund - Avon" is the default for Valley Avon attendees; you may also select the World Outreach Fund from the drop-down menu. Click "Next."
Step 4: If this is your first time giving through PushPay, you will need to set up your account to ensure the security in this and future transactions. Once the account is set up, you will not have to repeat this step.
How to adjust your giving through PushPay
You can change the amount of recurring giving, choose a different fund, or make any other changes to your settings simply by clicking the "Your Account" button on the top right corner of the PushPay page: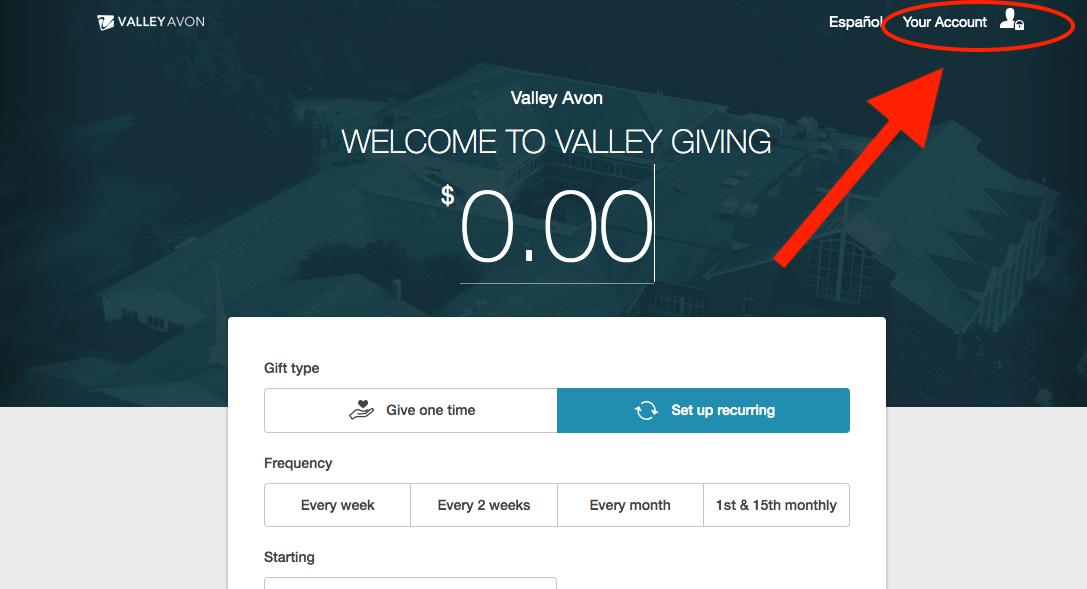 Questions? Feedback?
For any questions or comments about the online giving system, please contact the Finance department by email at or by phone at 860.673.6826. You will receive a response from our staff as soon as possible.